ইন্সটিটিউট অফ মডার্ন ল্যাঙ্গুয়েজেস-এ প্রভাষক নিয়োগ দেবে জগন্নাথ বিশ্ববিদ্যালয়
আবেদনের শেষ সময়: ফেব্রুয়ারি ২৮, ২০১৯
প্রতিষ্ঠান 
জগন্নাথ বিশ্ববিদ্যালয়
পদ 
প্রভাষক –  ইন্সটিটিউট অফ মডার্ন ল্যাঙ্গুয়েজেস
পদসংখ্যা 
১টি
শিক্ষাগত যোগ্যতা ও অভিজ্ঞতা
বিস্তারিত জানতে www.jnu.ac.bd এই ওয়েবসাইট ভিজিট করুন
আবেদনের শেষ সময়
ফেব্রুয়ারি ২৮, ২০১৯
আবেদনের নিয়ম
আবেদনের নিয়মসহ বিস্তারিত জানতে নীচের বিজ্ঞপ্তিটি দেখুন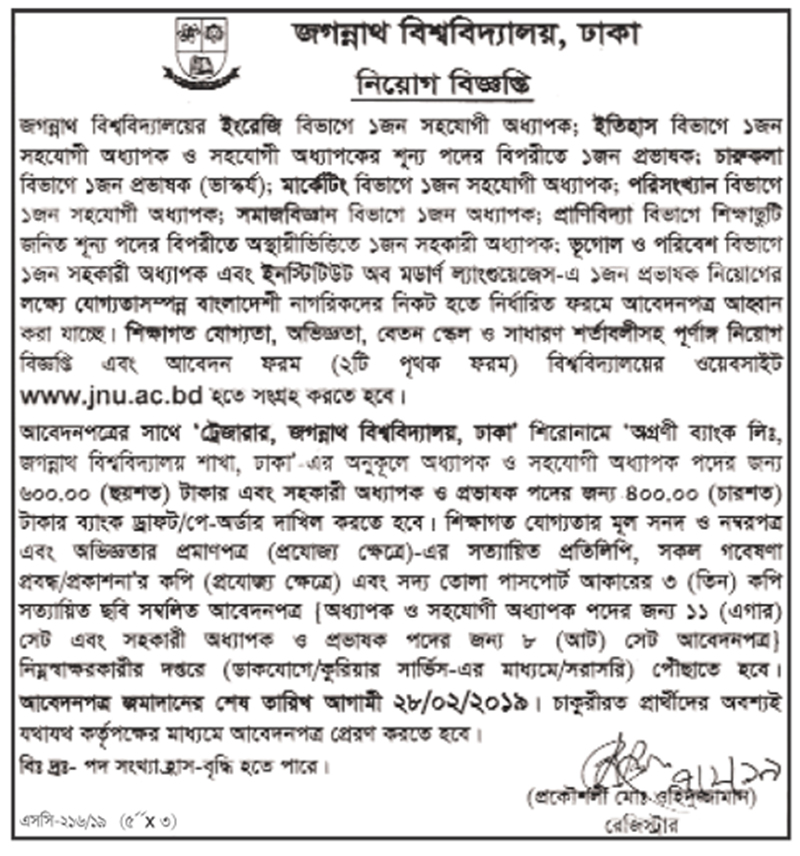 আরও জব নিউজ পেতে ক্লিক করুন এখানে
ওয়াইএসআই বাংলা জবসে আজই আপলোড করুন আপনার সিভি। রেজিস্ট্রেশনের জন্য ক্লিক করুন এই লিংকে
জগন্নাথ বিশ্ববিদ্যালয় সম্পর্কিত তথ্য
Jagannath University as a govt. financed full pledged public university of Bangladesh is situated in the southern part of the city of Dhaka near the Buriganga. This prestigious educational establishment has a history of about 156 years which started in 1858 when Dhaka Brahma School was founded in 1858 by Dinanath Sen, Prabhaticharan Roy, Anathbandhu Mallik and Brajasundar Kaitra. The name Jagannath school was given by Kishorilal Chowdhury, the Zamindar of Baliadi who took over the school in 1872 and renamed it after his father's name. In 1884, it was raised to a second grade college. Law was one of the first courses introduced in the college. A common management committee administered the school and college until 1887, when the school section was separated to form an independent school named Kishore Jubilee School. It is now known as K L Jubilee School. The administration of the college was transferred to a board of trustees in 1907. In the following year, it became a first grade college.
The college started with only 48 students and in five years, the roll raised to 396. In 1910, Raja Manmath Roy Chowdhury, the zamindar of Santosh, tangail affiliated the Pramath-Manmath College of Tangail with Jagannath College.It was known as the best equipped private college in Dhaka as early as 1910. With the establishment of Dhaka University in 1921 the college had to stop admission in Degree courses and was renamed Jagannath Intermediate College. This status was changed after 28 years in 1949, when it reopened Degree classes. The college was taken over by the government in 1968.
Jagannath College opened honours and masters programmes in 1975. That year the government once again took over the college and upgraded it into a postgraduate college. In 1982, the college closed its programmes of intermediate level.The college introduced evening shifts in 1992.The college was transformed into the Jagannath University in 2005. At present the University has 36 departments under 6 faculties and two Institutes .The faculties are Science, Arts, Business Studies, Social Science, Law and Life & Earth Science.The Institutes are Institute of Mordern Language and Institute of Education and Research. Now 638 (till to 2016-17) teachers are engaged in providing quality education of around 19088 (till to 2016-17) students on diversified areas.